Services We Offer
We have been serving Westchester for over 100 years! Serving All Five Boroughs of NYC.
No job too small. Most repairs can be performed for a minimum service fee.
Clean, professional & courteous service!
Single receptacle installation to 4000 Amp services. 42-foot bucket truck available.
Happy Clients
Dawn Meglino
Judy Kelly
Carla Klapper
Latest from The Blog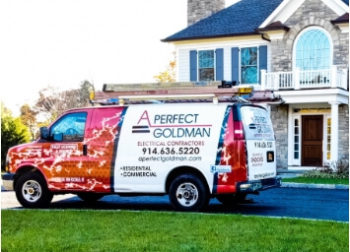 After several months of hard work and dedication, we are thrilled and excited to announce the launch of our new website. Over the years, A perfect Goldman...
WHY CHOOSE US
A Perfect Electric started out as a small electrical contracting company in New Rochelle, New York close to three decades ago. Today, thanks to the foresight and passion of its owner, Louis Monforte, A Perfect Goldman Electric is one of the largest and oldest non-union electrical contracting companies around. Louis felt that through the acquisition of quality electrical contracting companies and the nurturing of his electricians and staff that his company would prove to be the best electrical contractor that one could hire.
SKILLS
Quality
95%
Technology
90%
Service
99%